'Mafia plot' killer to be detained in State Hospital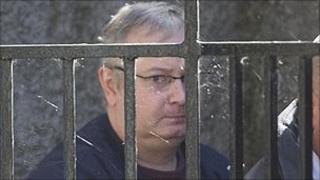 A man who killed his mother three days after he left a psychiatric unit is to be detained indefinitely at a high security hospital.
Mark McDonald, 42, repeatedly stabbed the 66-year-old because he thought she was part of a Mafia plot to kill him.
Veronica Reid was found dead with more than 100 wounds in Dundee in July 2009.
The judge told McDonald he was satisfied he should be held under compulsion and restriction orders at the State Hospital at Carstairs.
McDonald was found guilty of culpable homicide in August 2010. A jury rejected his plea that he was insane at the time.
The High Court in Edinburgh heard that he would be treated at the State Hospital for as long as the mental health authorities considered it necessary.
Re-offending risk
Judge Lord Malcolm said that if the stage was reached that he could be returned to the community then a comprehensive supervision, support and risk management package would be put in place.
"In my view they are an appropriate response to a need to reflect the circumstances of your crime, your mental disorder which everyone agrees played a dominant role in what happened and the need to protect the public," said the judge.
Consultant forensic psychiatrist Colin Gray said McDonald had a "history of leaving hospital against medical advice and absconding".
"He tends to minimise the nature of his mental health problems and there would be a risk that he would commit further offences if set at large," he said.
The psychiatrist, who is the responsible medical officer for McDonald, said he should be placed in high security, at least for the moment.
McDonald killed his mother at the home they shared in Kelso Pace, Dundee, on 31 July 2009.
He had become lost in paranoia in which he believed he was a mafia don and was targeted for execution and his mother was at the heart of the plot.
He then launched the knife attack on her.