Douglas Lang tributes paid after mountain avalanche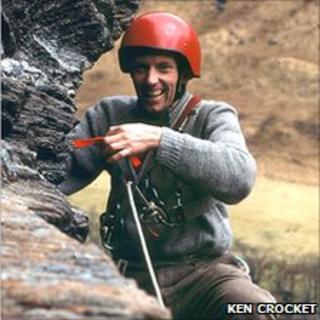 Fellow climbers have paid tribute to a former Scottish Mountaineering Club president who has been killed in a suspected avalanche.
Douglas Lang, 69, failed to return from a solo trip to Corrie Fee in Angus on Friday and his family raised the alarm.
Rescuers found his body below a gully on Sunday. It is thought he was swept away in an avalanche.
Mr Lang, from Dundee, was president of the club from 1992 to 1994 and is well-known for his numerous first ascents.
Another former SMC president, Ken Crocket, said he had known and climbed with Mr Lang for 40 years.
"He was the most enthusiastic climber you could meet," he said.
"Nothing could stop him. He would go out in all conditions and even on poor weather days.
"He wasn't that interested in photography or writing about climbing - just doing it."
Mr Crockett said he would probably be best remembered for his first ascent of the classic climb Ardverickie Wall on Binnein Shuas with Graeme Hunter in 1967, as well as winter climbs on Creag Meagaidh and Ben Nevis.
Many other climbers paid tribute to Mr Lang on the UKClimbing forum.
Police, mountain rescue teams and an RAF helicopter began the search for the mountaineer at about 2140 GMT on Friday.
His body has yet to be formally identified. Tayside Police said a report would be submitted to the procurator fiscal.