United Auctions buy Stirling Agricultural Centre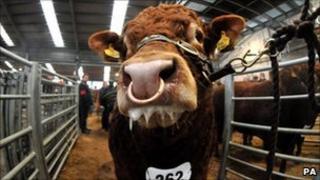 A Stirling livestock market opened two years ago has been bought by United Auctions (UA) for an undisclosed sum.
UA will now take over the running of Stirling Agricultural Centre after completing the deal with the original owners Elphinstone.
The £15m centre was opened in 2009 and houses 400 pens, three sales rings and an exhibition hall on a site to the north of the city.
It replaced existing markets in Perth and Stirling.
UA are one of Scotland's leading livestock auctioneers, running markets across the country dealing in commercial and pedigree sheep and cattle.
The 153-year-old United Auctions had been bought by East-Renfrewshire-based land developers Elphinstone in 2005, but became independent again in 2007 after a management buy-out.
Elphinstone Estates Limited went into administration in September 2010 because of ongoing trading losses and cash flow problems.
UA executive chairman David Leggat said: "We're pleased to announce this deal, which is a significant investment that further enhances the company's position and long-term sustainability."