Stirling and Falkirk fuel thefts on increase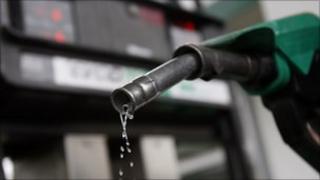 More than £11,000 worth of fuel has been stolen in Stirling and Falkirk since the start of the year, police have said.
There have been 25 thefts, many from large vehicles or storage tanks in rural areas, as pump prices rise.
Officers warned fuel tank owners to improve security by installing CCTV and storage cages.
They also said lorry drivers should leave it to the morning to fill their tank when sleeping in vehicles.
The most recent fuel theft took place between 13 and 14 March, when more than 3,000 litres (660 gallons) of red diesel was stolen from farm storage tanks near Kippen.
Sgt Paul Barr, from Balfron police office, said a large vehicle would have been needed to transport the fuel and appealed to anyone who saw suspicious activity near Kippen Station roundabout at the time of the theft to come forward.
Impound threat
He added: "Red diesel is a rebated duty fuel which contains a red marker dye. It is not for use on road-going vehicles and leaves a stain on engines which can be detected by HM Revenue and Customs staff.
"If anybody is found to be using red diesel in a road-going vehicle they can be reported for the offence, be subjected to payment of back-duty and have their vehicle impounded."
Central Scotland Police said there had also been two recent attempts to steal diesel from vehicles parked in a haulage yard at Blairdrummond, near Doune.
Other areas targeted include the Craigforth weighbridge at Stirling and Bankside Industrial Estate in Grangemouth.
Sgt Kevin Chase, from the force intelligence bureau, said "simple steps" could be taken to prevent fuel being stolen.
"Our advice for road hauliers is when resting overnight in their vehicle to fill the vehicle the following morning and not to have a full tank overnight," he said.
"Anti-siphoning devices and alarms for fuel tanks could also be used. Park vehicles in areas that are well lit in order that they can be observed easily."
Sgt Chase said the force recommended that buildings storing fuel be fitted with alarms and lighting improved.
Vehicles could also be parked "defensively" to prevent portable storage containers being taken, he said.