Trossachs forestry worker rescued from Ben Venue gorge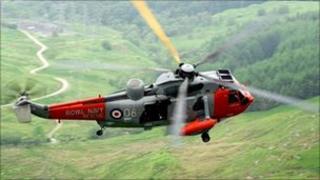 Rescuers had to lower a forestry worker to safety after he became stuck in a gorge on Ben Venue in the Trossachs.
The Lomond Rescue Team were called at 1300 GMT on Monday after cries for help were heard coming from the eastern slopes of the 727m (2,386ft) mountain.
The 57-year-old man was found "cold but otherwise unhurt" by team members a few hours later and lowered to safe ground.
He could not be winched to safety by helicopter because of his location and high winds, rescuers said.
Rescue team leader David Dodson said the man had been on steep ground and had got himself into a position where he could neither go up or down.
He told the BBC News website: "This was off the beaten track and not an area we would usually expect people to be in.
"He could not be winched because he was in a gorge and the winds were too high.
"He was just cold and a bit hungry - and a bit embarrassed - but otherwise unhurt."
'Technical rescue'
An RNAS Gannet Sea King was involved in the search for the man.
The rescue team said the casualty had been located in the gorge despite "confusing information".
And a team spokesman said it had been a "satisfying technical rescue".
"A team member was lowered down to the casualty and fashioned a harness from slings then with a rope from above and rope from below, the casualty was lowered to safe ground," he said.
"The casualty was given food and drink and it came out that he had been stuck since 1130. Very soon, he was fit enough to be escorted off the hill back to his transport."