Strathclyde Police officer guilty breach of the peace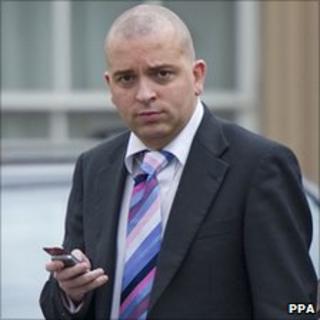 A police officer has been found guilty of breaching the peace after he was heard shouting and swearing and challenged by an off-duty colleague.
Christopher Halaka, 31, was drunk on a night out in Perth with his uncle when they were heard singing songs.
But a sheriff ruled that Halaka had not wanted to cause "ill-will" to a particular group and deleted religious aggravation from the charge.
Halaka will now face an internal inquiry by Strathclyde Police.
Both Halaka and his uncle Laurence Winters, 43, were fined £250.
They had been charged with committing a breach of the peace aggravated by religious prejudice in central Perth on 28 December 2009.
Sheriff Mark Stewart deleted the reference to religious aggravation before finding them guilty of breaching the peace.
He said: "It is the verdict of the court that a breach of the peace has been proved against both of you. You conducted yourself in a disorderly manner and shouted and swore.
"It was a breach of the peace in a public street and caused offence to members of the public who had been enjoying the night out."