Lochee police target underage 'drinking dens'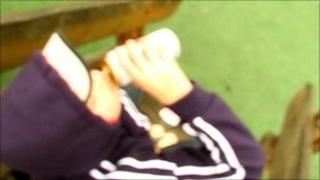 Officers in Dundee have said they will be targeting known "drinking dens" over the school Easter holidays in a bid to curb antisocial behaviour.
Youths found drunk in Lochee can expect to be searched and have their alcohol confiscated, Tayside Police said.
Parents and guardians will also be contacted and asked to come and collect any drunk young people.
Plain clothed officers will be involved in the underage drinking crackdown, as well as special constables.
Pc Scott Gallacher, who is organising the operation said there was no hiding from the fact there was an on going issue with under-age drinking in the Lochee area.
"This operation is primarily about the safeguarding of youths, who through the misuse of alcohol make themselves vulnerable," he said.
"Left to their own devices, many of these young people frequently go on to commit petty crime, vandalism and antisocial behaviour.
"On some occasions the results can be even more serious resulting in police resources, NHS resources and the community as a whole being affected.''
Tayside Council on Alcohol representatives will also offer guidance and advice about drinking.