Stirling Royal Infirmary cleaning standards 'poor'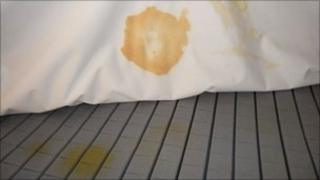 Health officials have criticised the state of cleanliness in Stirling Royal Infirmary after an unannounced inspection.
Inspectors who visited the hospital on 15 February said standards in the majority of the areas they visited were "poor".
However, the placement and management of patients was praised by the report.
Forth Valley NHS said work was already underway to address the issues raised by the inspection.
Inspectors from Healthcare Environment Inspectorate (HEI) visited nine areas of the hospital, including accident and emergency, the critical care unit and wards for the elderly.
HEI chief inspector Susan Brimelow said the team found the "risk assessment and placement of patients" was well-managed and the approach to the prescribing of antibiotics in order to prevent and control infection was also good.
But she added: "This is our second inspection of Stirling Royal Infirmary and we found a number of areas where significant improvements need to be made, some of which were included in the report of the last inspection and have not been effectively resolved."
"The standard of cleaning in the majority of areas was poor and not all staff are adhering to the national dress code policy.
New wards
Ms Brimelow said HEI would be following up the inspection to ensure NHS Forth Valley had complied with the 12 requirements made in the report.
A spokeswoman for the health board said: "NHS Forth Valley is committed to providing high standards of cleanliness and safety in our hospitals.
"We take the findings of this report very seriously and work is already under way to address all of the issues raised.
"We are pleased that the report commended our work in several areas including good clinical leadership and our approach to prescribing antibiotics, managing waste and isolating patients."
The spokeswoman added that the hospital had "significantly reduced" the number of C-difficile cases.
Many of the wards will be moving to the new Forth Valley Royal Hospital in July 2011.