Community payback criminal 'breached order'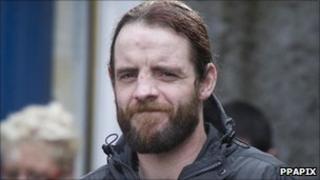 The first criminal in Scotland to be given a Community Payback Order has been jailed for 40 days after being found guilty of breaching the order.
However, Laurence Winters walked free from court because he had spent 21 days - the equivalent of a 42-day sentence - on remand while denying the breach.
The 39-year-old, from Perth, was placed on the payback scheme in February following a public order offence.
He was remanded in custody after failing to attend three meetings.
Sheriff Michael Fletcher said: "An attempt was made to avoid a custodial sentence by imposing a Community Payback Order. Had I known all of the information, the court would not have imposed that order.
"Had I known he would have all these difficulties in keeping it, and doing it, I would never have imposed it and would have sentenced him in some other way."
Winters, who has criminal record going back 24 years, blamed his absence on a heart attack, a road accident and an epileptic fit.
Sheriff Fletcher said: "The series of events you have described - is that just how you normally live? You expect to be in hospital every two or three days.
"You were hit by a van and assaulted - is that normal? Or was it just bad luck that fortnight?"
'Atrocious record'
Social worker Barbara Pow told Perth Sheriff Court that Winters had been credited with doing one hour of the order, even though all he had done was register at the council offices.
She confirmed that he had done no work and had not turned up for the induction meeting or given notification of his alleged medical difficulties.
Winters - whose record contains 160 previous offences - was described by Sheriff Fletcher as having "an atrocious and lengthy record for nuisance value".
Sheriffs have been ordered to consider imposing a Community Payback Order - often removing graffiti or renovation work - as an alternative to jail terms of less than three months.