Aston Martin crash driver was film-maker Richard Steel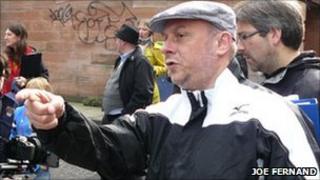 A man who died when he crashed his £110,000 car was just months from achieving his dream and releasing a movie, a friend has said.
Richard Steel, from Lasswade in Midlothian, was killed after he lost control of his Aston Martin DB9 on the A91 in Clackmannanshire.
Former colleague Joe Fernand said it was "dreadful" he had died just at the point his skills were being recognised.
No-one else was involved in the crash at 1010 BST on Wednesday.
The 40-year-old's car ended up on its roof in a field after leaving the road between Blairlogie and Menstrie.
Mr Steel, a cameraman and steadicam operator, was one of the founding members of Edinburgh-based production company the Media Factory, in 1993.
He had been freelance since 1999, working on productions for the BBC, Sky, ITV and many other companies.
For the last two years he had been director of photography on the independent comedy drama Electric Man, which was due to be released this year.
Mr Fernand said: "Richard was a good, fun person to work with.
"He was quite a shy person in earlier days when we first started working together. He didn't get all the plaudits he deserved.
"It was always his dream to get into movies and that was something I pushed him towards."
Mr Fernand, who still works at Media Factory, said Mr Steel was "very creative" and had worked tirelessly after going freelance 12 years ago.
"He worked very, very hard to get to where he was. It's dreadful that just at the point he was making a name for himself he's suddenly not here," he added.
Central Scotland Police has appealed to anyone with information about the crash to contact them.