'Giant hand' sculpture on Clackmannanshire roundabout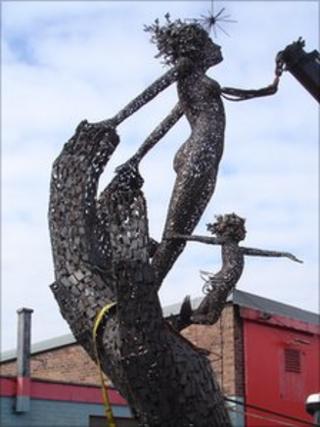 A sculpture of a giant hand supporting a woman and child is to be erected on a roundabout in Clackmannanshire.
Artist Andy Scott said the structure, which is just under 8m (26ft) high, had been inspired by the work of the emergency services.
It is being unveiled on the Shillinghill roundabout on Sunday as part of the Imagine Alloa project.
Clackmannanshire Council said the sculpture was a "beautiful addition" to other popular works in the area.
The artist has five other pieces on display in the county, the first being installed in 2007.
His latest sculpture is named "Lifeline" and incorporates words from Scottish poet Jim Carruth.
The phrases - laser-cut on steel plate and welded onto the structure - include "Life-line", "Reach out", "Hold close" and "Lift up".
Mr Scott said: "I asked Jim to be involved once I had been asked to create the artwork and had developed the basic theme and narrative I was trying to capture.
"Jim and I discussed the concept therein and created a simple but very effective piece of text."
'Helping hands'
Mr Scott's other public artworks in Scotland include Arria - a sculpture of a female figure near Cumbernauld - and Heavy Horse, which is installed by the M8 motorway between Glasgow and Edinburgh.
Eddie Carrick, portfolio holder for sustainability on Clackmannanshire Council, said: "With six of his artworks in such a concentrated area, I hope that people will identify Clackmannanshire with public art and Andy Scott in particular.
"Andy's brief was about representing helping hands in the community, which he's done, taking the shape of the giant hand from the gauntlet on Clackmannanshire's coat of arms."
The work was part-funded by Forth Valley College, whose campus overlooks the Shillinghill roundabout.