Plan to build new Tay bridge at Perth to be abandoned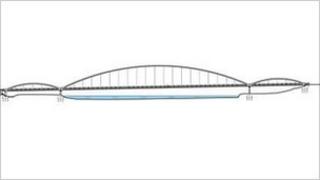 Plans to build a new pedestrian and cycle bridge across the River Tay in Perth look likely to be abandoned.
Perth and Kinross Council said it could not afford to cover the costs of the bridge project after they increased dramatically over two years.
Consultant engineers Atkins initially said in March 2009 that the structure would cost £1.25m to build.
However, the firm announced a fortnight ago that the cost of construction had risen to £5.25m.
Councillors have been urged to decline any further funding for the plan, known as the Connect2 Bridge project.
A report, due to come before councillors on 20 April, states: "Atkins have expressed their sincere regret that their earlier estimates were so far out and acknowledge that this has resulted in the project being progressed when it might have been halted at an earlier stage if the true costs had been known.
"They also acknowledge that this has resulted in expenditure which might not otherwise have been incurred."
The project had received £1.25m of funding from the Big Lottery Fund, via the cycle group Sustrans, with an additional £1.38m from the regional transport partnership TACTRAN.
'Economic climate'
Councillor George Hayton, depute leader of the administration, said: "It is highly likely that the Connect2 Bridge project will now be abandoned due to the new cost estimates, which we have recently received from our consultant engineers, Atkins.
"We have acted swiftly to consult with our colleagues in TACTRAN and Sustrans and with professional advisors to examine all our options.
"The funding gap of around £3.6m is significant at any time but particularly in the current economic climate.
"The project started as an opportunity to bring investment and a new bridge to Perth and Kinross. Regrettably, this new estimate by Atkins is now beyond the means of the public purse."
The crossing, which was to span the Tay from the North Inch to Isla Road at Upper Springlands. was announced in 2007 and was due to be completed this year.
Two designs were put out to public consultation in August last year, with plans for a bow-tied three-arch bridge being given most support.
Perth and Kinross Council has so far not revealed how much has been spent on the project to date.