Perth chef blames curried soup for drink drive charge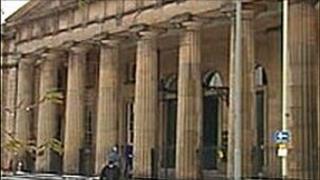 A chef who told a court that his curry had been spiked by a colleague after he was found to be over the drink drive limit has been banned from the road.
Aleem Mohammed, 42, claimed he had not touched alcohol for two months and said a bowl of curried soup had put him over the legal limit to drive.
However, Perth sheriff Robert McCreadie described Mohammed's excuse as "far-fetched."
He banned him from driving for three years and fined him £600.
Tandoori chef Mohammed told police the only explanation for him being nearly twice the limit was the heavily-spiced traditional Indian curry he had eaten as a staff meal.
He said he made the dish at Imran's Tandoori in Crieff, where he worked.
The court heard that Mohammed thought a combination of cinnamon, cardamom, curry powder, cloves and bay leaves had affected his breath alcohol reading.
'Totally alcohol'
He said: "I made a big pot of soup with Asian spices.
"It just made me feel warm because there were a lot of spices.
"It is for the staff only. I had some more of the curry at 0030 GMT."
He told solicitor Robert MacDonald he had not added alcohol when cooking the soup.
He blamed a colleague - whom he had fallen out over a "soggy naan bread" a week earlier - claiming the dish had been doctored sometime during the evening.
Sheriff Robert McCreadie said: "If it was a bowl of soup, it would have had to have been almost totally alcohol."
He added: "He has utterly failed to satisfy me that this bowl of soup could be the reason for having 57 mics of alcohol in his body.
"I simply find that incredible."
Mohammed had already admitted driving while over the limit in Crieff on 23 October last year.
Fiscal depute John Malpass told the court that police had received a tip-off that Mohammed would be under the influence while driving home from work at the end of his shift.
Officers followed his Ford Mondeo, although he failed to stop when they activated their blue lights.
When they caught up with him at his home, the officers said he did not smell of alcohol as he was chewing aniseed.
He told police: "I haven't been drinking, I know for a fact."
The court hear he also had a previous drink driving conviction from 2003.