Man jailed for Dundee schoolgirl sex attack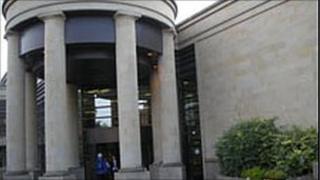 A man who attacked a schoolgirl as she walked home alone has been jailed for more than six years.
Steven Horsburgh, 31, sexually assaulted the 16 year old after he spotted her going past a shopping centre in Dundee last November.
Horsburgh, who was on probation at the time of the assault, admitted the offence at the High Court in Glasgow.
The judge told him: "You have pled guilty to an appalling attack. She was begging you to stop and was terrified."
The court heard how the girl had been walking home after visiting her boyfriend in the city's west-end on 30 November.
She was spotted by Horsburgh, who was standing in a doorway, as she went past the city's Wellgate Shopping Centre.
He asked her for a cigarette, but she said she did not have any and walked on.
As Horsburgh began following her, the girl texted her boyfriend to say she was scared.
Her boyfriend called just as Horsburgh pushed her to the snow-covered ground and began attacking her.
Prosecutor Paul Kearney told the court: "The victim began to scream for help to her boyfriend and for anyone who may be listening.
"She repeatedly begged him to stop."
A nearby couple heard the girl's cries and shouted at Horsburgh to stop.
The court was told that Horsburgh then got up and the girl got dressed. However, he again tried to pursue her before she was able to escape by climbing over a fence.
Mr Kearney said the girl had been left profoundly upset and affected by the ordeal.
The court her that Horsburgh had written a letter that he wanted given to his victim, apologising for his actions.
However, Lord Hardie said the letter could be considered "aggravating" to the victim.
He jailed Horsburgh for six years and five months.
The judge also ordered that the accused be supervised for a further four years upon his release.