Shopkeeper praised by judge for 'bravery'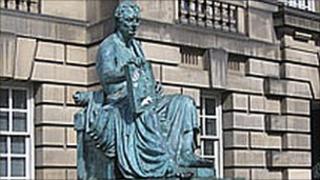 A shopkeeper who fought off a masked knife-wielding robber has been praised by a judge.
The High Court in Edinburgh heard that Edward McGinnis, 68, pulled the scarf hiding the attacker's face, hit him with a baseball bat and drove him out of the store in Bo'ness.
The lawyer defending Stephen Garven, said: "He commendably took the law into his own hands."
Lord Malcolm said Mr Mcginnis had responded with "admirable bravery".
Jailing Garven, 22, for four years, the judge told him: "Mr McGinnis responded with admirable bravery by pulling the scarf from your face, ignoring the large knife you were brandishing and chasing you off with a baseball bat."
At an earlier hearing, the High Court in Edinburgh was told that Mr McGinnis had been unable to stop Garven fleeing with £170, but his actions had enabled police to recognise Garven's face from the store's CCTV security camera.
Defence advocate Derrick Nelson said Mr McGinnis also recognised Garven as a customer at the shop.
The lawyer said, Garven was desperate because he was being hounded over a drug debt and threatening messages had been left on the telephone answering machine at his mother's house.
Garven appeared from custody and admitted the raid on the Hillcrest Store in Bo'ness, West Lothian, on 4 December last year.
Advocate depute Michael Stuart, prosecuting, told the court how Mr McGinnis was left in charge of the family-run shop.
During the afternoon a man bought tobacco while Garven lurked outside.
When Mr McGinnis opened the till to give the customer change, Garven rushed in yelling to the shopkeeper not to close the till and brandishing a kitchen knife.
'Dire straights'
Garven then leaned over and grabbed a handful of £10 and £20 notes.
The court heard that the accused wore a black scarf which covered his neck and face to just below the eyes.
Mr Stuart said: "Mr McGinnis pulled at the scarf to uncover the accused's face before striking him on the body with a baseball bat which he retrieved from behind the counter."
When police caught up with Garven he told them he was in "dire straights" because he owed £650 to drug dealers in Glasgow.
When he realised that police were after him he panicked and threw the cash and the clothes he had been wearing into the sea.
The court heard that Garven had a record for break-ins and also has previous convictions for assault and carrying weapons.