Irish republican march held in Denny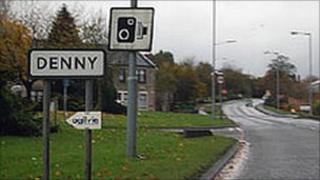 A march by an Irish republican group has been held in the town of Denny.
An estimated 150 people turned out for the event organised by Cairde Na hEireann, which means Friends of Ireland.
About 400 people had been expected to take part in the march, which was held without any reported trouble.
Councillors in Falkirk granted the group permission after considering more than 150 objections from locals and three submissions in its favour.
The authority said its powers to refuse were restricted by the European Convention on Human Rights.
Earlier police had warned those taking part, and anyone taking part in a counter-demonstration, that the law would be strictly enforced to prevent trouble.
Cairde Na hEireann, whose stated aims include the unification of Ireland and campaigning against racism and sectarianism, had initially proposed to march through the town at midday on 9 April.
However, Central Scotland Police expressed concern that the date and time coincided with the start of a Falkirk football match and may have put pressure on the force.