Three members resign from Abertay University court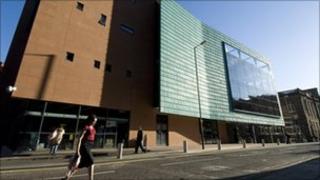 Three more members of the governing body of Abertay University in Dundee have resigned.
The institution has been in turmoil since a decision earlier this year to suspend its principal Bernard King.
He is taking his case to an industrial tribunal, claiming the university reneged on an agreement to extend his contract.
Businessman Derek Douglas, who resigned from the governing body earlier this year, has called for an inquiry.
He has said Professor King's suspension was unfair and could result in the university having to pay substantial damages.
It is understood the chief constable of Tayside Police, Justine Curran, was among those who resigned her post during a meeting of the university court on 16 April.
'Current situation'
Also named were Bernadette Malone, chief executive of Perth and Kinross Council, and Sylvia Halkerston, from food company Macphie.
The court, which is responsible for the university's finances and administration, is made up of 25 staff and lay members.
Lay members are recruited to the court from industry and commerce, while others are included for their experience in the community.
Professor King's suspension in March followed that of vice-principal Professor Nicholas Terry in January.
However, he was reinstated following a university investigation.
The university has not released any information on the reason for either of the suspensions.
In a statement, a spokesman for Abertay said: "I can confirm that three members of the university court have intimated their intention to resign from court, although the university has not yet received confirmation in writing.
"Internal procedures to resolve the current situation are continuing, and we will not comment further until those procedures have been completed."