Nabeel Khan guilty of killing wife Dr Iffat Kamal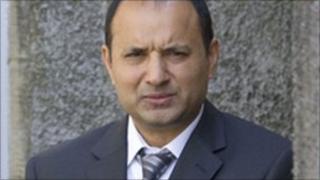 A man whose murder conviction was quashed by appeal judges has been found guilty of killing his wife at their home in Dundee.
Nabeel Khan, 47, was convicted of culpable homicide after a retrial at the High Court in Aberdeen.
He killed his wife Dr Iffat Kamal, 39, by throttling her in December 2008.
Khan had been found guilty of murder in 2009, but appeal judges later ruled he had suffered a miscarriage of justice and ordered a retrial.
They said the trial judge had misdirected the jury over the differences between murder and the lesser charge of culpable homicide.
Khan had admitted culpable homicide and told his trial that he accepted "full responsibility" for his wife's death.
However, he said he did not intend for Dr Kamal to die when he grabbed her by the neck at their home.
She was so seriously injured that she died 10 days after the attack at Ninewells Hospital, where she had been working as a consultant pathologist.
Brain damage
During the trial, the court heard the Khan and his wife had been arguing in the days leading up to her death.
An 11-year-old boy, who cannot be named for legal reasons, described how the pair were arguing on 10 December in 2008.
He said Khan had called his wife "rude and vile".
The boy said Dr Kamal had responded by saying: "Your family are rude and vile."
The witness said the pair left the room but a while later he heard Dr Kamal start to scream.
He told the court he then saw Khan standing with his right arm around his wife's neck while using his left arm to hold down her arms.
An unconscious Dr Kamal was later taken to Ninewells hospital, where she died.
Later, the trial heard from pathologist Dr James Grieve, who said Iffat Kamal died as a result of brain damage caused by a lack of oxygen due to external compression of the neck.
The defence case heard Khan's mother, Nasim, describe a history of mental illness in the family.
'Great loss'
Dr Andrea Freil, a psychiatrist who interviewed Khan on various occasions after his arrest, also said she believed he was suffering from an "adjustment disorder" when he attacked his wife.
Following the verdict, a distraught member of Dr Kamal's family cried out as Khan was led from the dock in handcuffs.
Khan's mother apologised to the victim's relatives following the verdict.
She said: "It is tragic for all of us. They have suffered a great, great loss. A life has gone.
"If we can apologise for that as a family, we do. But justice has been done. My son is not a murderer. He has been a wonderful person throughout his life."
Khan will be sentenced at the High Court in Glasgow on 24 May.