Big Country to play T in the Park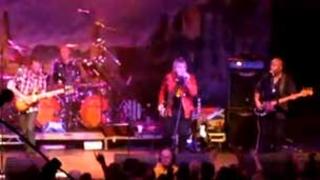 Reconstituted 80s rock giants Big Country are to play the T in the Park music festival, it has been announced.
The band, which has reformed after the death of frontman Stuart Adamson, will play the three-day festival in July.
Other Scottish acts to be added to the line-up include Jon Fratelli, Roddy Woomble, Twin Atlantic, Emma's Imagination and Jack Townes.
About 85,000 people are expected at the event from 8 to 10 July at Balado in Perth and Kinross.
Big Country, who had massive worldwide hits in the 1980s with songs such as Fields of Fire and In a Big Country, now have former Alarm singer Mike Peters as their frontman.
The band said: "To be able to play at T in the Park is a perfect opportunity for us to really celebrate our 30th anniversary in Scotland.
"Because the band was basically born in Fife, T is a fitting place to return to for this occasion. Stuart would have appreciated this, and we're all looking forward to it."
Jon Fratelli, from Glasgow band The Fratellis, will appear solo in Balado for the first time, with new songs from his debut album Psycho Jukebox.
Roddy Woomble, frontman of Scottish alt-rock act Idlewild, is also on the T in the Park line-up.
He will play material from his latest solo album The Impossible Song & Other Songs.
The full line-up for the festival already includes Scottish acts Primal Scream, The View, KT Tunstall, Calvin Harris, Slam and Silicone Soul, as well as headliners Arctic Monkeys, Coldplay and Foo Fighters.