Rapist sees minimum jail term slashed by appeal court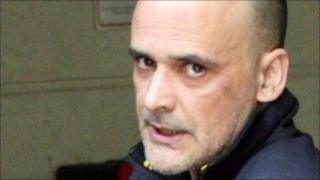 A rapist who is serving a life sentence for two sex attacks has had his minimum jail term slashed.
Appeal judges overturned a court ruling that Grant Stewart, 45, formerly of Dundee, should wait ten years before he could ask to be freed.
It followed a landmark appeal which altered guidelines on the punishment part of discretionary life sentences and orders for lifelong restriction.
Stewart's punishment part was cut to five-and-a-half years.
The appeal judges backdated it to June 2008.
Lord Osborne, sitting with Lord Clarke at the Court of Criminal Appeal in Edinburgh, also decided the judge who jailed Stewart had been too harsh.
When Grant Stewart was given his life sentence in May 2009, trial judge Lord Bannatyne heard he had been freed on bail twice by sheriffs before raping a woman in Dundee armed with a knife.
Stewart had earlier assaulted another victim at a flat in the city with intent to rape her.
Sex attacks
Stewart, formerly of Broughty Ferry Road, Dundee, first struck on 30 November 2007 when he attacked a 40-year-old woman at a flat in the city.
During the assault he pushed her to the floor, exposed himself and pulled her into a bedroom.
Stewart struck again on 8 June 2008 when he held a knife to the throat of a 34-year-old woman, made her take off her clothes and then raped her.
Stewart denied the rape, claiming the woman was a willing partner but a jury found him guilty.
The rules fixing the release of lifers jailed for offences other than murder were altered after a landmark legal ruling earlier this year cleared the way for people serving life sentences to challenge the length of time they must spend in Scots jails.
'Some comfort'
Appeal judges overruled previous guidelines for setting the punishment part of discretionary life sentences and orders for lifelong restriction.
It followed appeals by Robert Foye, who raped a schoolgirl while he was on the run from Castle Huntley open prison, and paedophile Maurice Petch who raped two young girls.
In the appeal judges' ruling on Thursday, Lord Osborne said it might be "of some comfort" to know that the end of the punishment part did not mean a prisoner would be released.
That would only happen when the parole board thought it safe to do so.
Lord Osborne added: "Such a state of affairs may never come into being. Alternatively, if it does come into being, that may happen only at some distant point in the future, until when the subject will remain incarcerated."