Patrick Rae murder trial: body found under ivy 'quilt'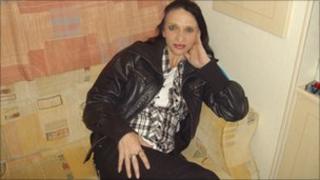 Police searching for a missing woman found a body under a "quilt" of ivy, a murder trial has been told.
Relatives of Mary McLaren had contacted police a fortnight earlier after she failed to return home from a night out.
Patrick Rae, 41, denies raping and murdering the 34-year-old between 25 February and 10 March 2010 at North Marketgait and elsewhere in Dundee.
He also denies attempting to defeat the ends of justice by hiding her body, and getting rid of a knife or similar item.
Sgt Scott Finlayson told the High Court in Edinburgh he had been taking part in a missing persons search at North Marketgait on 10 March last year.
Shoe found
Advocate depute David Young QC asked if he found anything of significance.
"I could see there was ivy growing up the tall wall and there was a strip missing," he said, which he thought was "a little strange".
The trained search officer said he then looked into an area of fir trees where he saw a shoe.
He said there was also a "big clump" of ivy below the wall which was "like a quilt". He added: "When I first saw it it was like it had been carefully placed."
He said he carefully lifted one side and told the court: "I found a pair of feet and I knew right away there was a body there."
Ms McLaren was reported missing by her mother on 25 February after she failed to return to her own address following a night out with her sister.
Her body was found on an embankment near Dundee's Ladywell roundabout almost two weeks later.
Mr Rae is alleged to have repeatedly struck Ms McLaren's head and body against a hard surface and forcibly removed her clothing.
It is also alleged he struck her on the neck with a knife or similar instrument and placed fabric over her throat, seized her by the throat and compressed it.
Mr Rae has lodged special defences of alibi and consent.
The trial before Lord Tyre continues.