Murder accused Patrick Rae said 'weird stuff'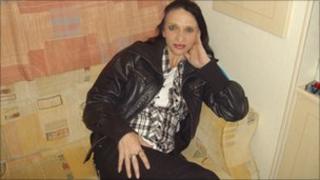 A man accused of murdering a woman in Dundee was asked by the victim's sister if he was "some kind of a pervert", a trial has heard.
Michelle Rodger said accused Patrick Rae said "weird stuff" to her and her sister Mary McLaren while they were at a nightclub in the city.
Mr Rae, 41, denies raping and murdering Mrs McLaren between 25 February and 10 March 2010.
He also denies hiding her body and getting rid of a knife or similar item.
Giving evidence at the High Court in Edinburgh, Miss Roger said Mr Rae approached her at Fat Sam's nightclub and began asking her to leave with him.
She said: "It was weird stuff. You will die with my sex. He wasn't making any sense."
She said she had replied once of twice and swore.
Miss Rodger, 27, told jurors that she had then said: "Are you some kind of a pervert?"
She was shown CCTV footage taken at the club, in South Ward Road, on 24 February 2010.
Miss Rodger and her 34-year-old sister Mary McLaren had arrived by taxi at the premises at about 2300 GMT.
Mother-of-three Mrs McLaren had an inflatable toy under her arm.
The court heard that the witness picked out a dark haired person wearing a jacket with a stripe on the back just below the shoulders, from footage of the club.
She said: "That's what the man had on."
She was also shown images taken in the early hours, which she said showed her and Mrs Mclaren going for a cigarette when the accused is said to have followed.
He was also seen leaning over Miss Roger.
Inflicting violence
She told the court, the accused was whispering to her, saying: "Leave your sister and come with me."
She added: "I just kept saying no. I said 'I am not like that'."
She was asked about later footage taken inside the club and said Mr Rae had come over to her and asked if she was coming away with him.
"He wanted me to go away with him. I shouted in his ear if it doesn't stop I will go and tell the bouncer," she said.
She said she and her sister left the club on two occasions with Mrs McLaren returning to retrieve her coat.
Mr Rae denies raping and murdering Mrs McLaren, of Rowantree Crescent, in Dundee, between 25 February and 10 March 2010.
It is alleged Mr Rae seized hold of her, forcibly removed her clothing and sexually assaulted her.
He is also accused of repeatedly punching her on the head and striking her head and body on the ground and against a wall or otherwise inflicting violence on her.
It is further alleged that he repeatedly struck her on the neck with a knife or similar instrument, placed a piece of fabric or similar item over her throat, seized her by the throat and compressed it.
Mr Rae also denies attempting to defeat the ends of justice by hiding her body under leaf litter and foliage, disposing of her coat and bag, getting rid or a knife or similar instrument and of clothing worn by him.
He has lodged special defences of alibi and consent.
The trial before Lord Tyre continues.