Strathblane 'dangerous' crossing plan rejected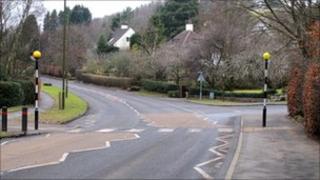 Plans to make safe a "dangerous" zebra crossing near a village school in rural Stirling have been branded as "disastrous" by the local community.
Parents fear it is only a matter of time before a child is seriously injured or killed on the crossing on the A81 in Strathblane.
Last year, the village lollipop lady resigned after several near-misses.
Stirling Council proposed a mini-roundabout near the crossing to help slow traffic down on the approach.
Road safety engineers also recommended increasing the visibility of the crossing and cutting back on vegetation.
But villagers and local police argued that the only safe solution was a traffic light-controlled crossing.
Central Scotland Police have recorded a series of incidents on the crossing, including one woman who was almost knocked down by a driver who was overtaking a car that had stopped to allow her to cross.
Community officer Pc David McNally said: "The most frequent excuse I'm given is that pedestrians are not seen. And it's not boy racers, it's middle-aged people, law-abiding people."
Pc McNally said traffic lights would be a much more effective way of making the crossing safer than a mini-roundabout.
"It's already too busy. I worry that if there's a roundabout, there maybe a little bit more furniture for drivers to take in."
Strathblane Primary School has logged 40 incidents of drivers not stopping at the crossing in the past two months.
Mother-of-three Christine Baume, from Strathblane, said: "I do not relish the decision-making using that crossing as an adult, let alone as a nine-year-old child.
'False security'
"I worry that we will have to wait for a serious accident or at worst a fatality before a safe solution is reached."
Brian Roberts, from Stirling Council, said the mini-roundabout plan was part of a wider scheme to force traffic to slow down on the A81 through the village.
"Once we've got the speed down, drivers have more time to think," he said.
Council road engineers are also concerned that a traffic light-controlled crossing could lull children into a false sense of security.
But Mr Roberts said the plans were just a proposal and that the council would rethink the issue.
A meeting of Strathblane Community Council unanimously rejected the mini-roundabout scheme.