Gamu Nhengu's right to stay in UK 'may be appealed'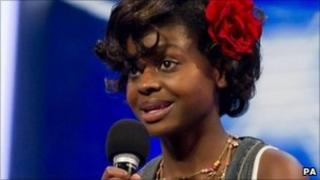 The Home Office has said it may challenge a court decision to allow former X Factor contestant Gamu Nhengu and her family to stay in the UK.
Officials at the UK Border Agency said they were "disappointed" at Wednesday's ruling - which overturned an order that the family should return to Zimbabwe.
The singer's mother, Nokuthula Ngazana, originally had her visa renewal turned down in August 2010.
The Home Office has five working days to respond to this latest judgement.
If the immigration court's decision is accepted, the family - who currently live in Tillicoultry, Clackmannanshire - will be allowed to remain in the UK.
A spokesman for the UK Border Agency said: "We are disappointed with the court's decision in this case. We will be looking closely at the judgement to decide whether it would be appropriate to appeal.
"The UK Border Agency considers every case carefully and where we do not believe someone has the right to stay in the country, and they do not require our protection, we expect them to return home."
Reacting to the immigration court's decision on Wednesday, the family's lawyer Frances Farrell said she hoped the Home Office did not exercise its right to appeal.
She said: "My clients are all delighted with the decision, it's the first great news they've had for months."
Ms Nhengu and her family have lived in Tillicoultry for several years after coming to Scotland from Zimbabwe.
The 19-year-old singer was allowed to stay in the country as a dependant while her mother studied at university.
She went on to become a household name when X Factor judge Cheryl Cole failed to put her through to the live shows, favouring Cher Lloyd and Katie Waissel.
Gamu's mother's visa expired in August 2010 and the family's application to remain was initially rejected as they did not meet Home Office criteria.