Perth criminal 'wanted to return to jail'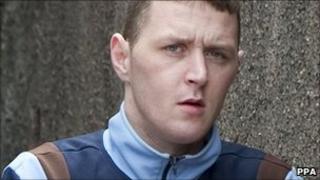 A criminal was so unhappy about being freed early from prison that he spent a whole day trying to get sent back to jail, a court has heard.
Paul Gibson, 30, attempted to get himself arrested three times after his release and then told police: "I did it just to get the jail."
Gibson, from Perth, admitted breaking into premises with intent to steal.
A sheriff ordered him to complete the 119 days remaining on his sentence for housebreaking and added four months.
Perth Sheriff Court heard that Gibson encountered police officers after being released on Thursday morning and told them he wanted to go back to jail, but was initially told to move on.
Drug test
He then entered the town's Superdrug store and started eating sweets in front of the staff.
When he was confronted by staff members he started shouting and swearing and was warned that the police would be called. He refused to move and welcomed the officers who finally arrived.
He was taken into police custody during Thursday afternoon and taken to Ninewells Hospital for drug testing, but officers found no trace of anything on him.
Gibson was put out onto the streets at 2300 BST, but then broke into the premises of National Tyres, in Longcauseway, Perth, at 0130 BST.
He did not take anything and was again waiting for the police when they arrived.
Solicitor Paul Ralph, defending, said: "When the police arrested him he said 'I did it just to get the jail'. That's largely how he spent his day yesterday.
"He got out of prison early in the morning and came to our office. Shortly after the police had reason to speak to him and took him to the police station until 11pm last night.
"When he got out at 11pm he had no idea what to do as he had no money and no-one else to turn to. The reason he committed this was so your Lordship would have the opportunity to return him to prison."
Mr Ralph said Gibson felt there was nothing for him "on the outside" at the moment, adding: "Until he is ready to get himself in a better place he is not ready to face the outside world."