Giant Tay whale created in Dundee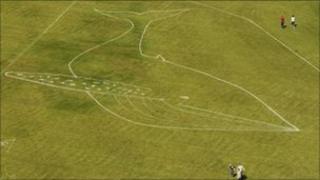 A huge drawing of the Tay Whale has been created, spanning an area the size of three football pitches in Dundee.
It was marked out by the organisers of Dundee WestFest to rival the Uffington white horse and the Cerne Abbas giant.
Despite its scale, the work will only be visible for the next three weeks to mark the city's upcoming festival, being held between 13 to 19 June.
The image was inspired by a humpback whale butchered in 1883 at the Tay, which served as a main whaling port.
Those behind the scheme said they hoped the whale would act as a welcome to Dundee for passengers arriving at the city's airport.
The Tay Whale came to public prominence when it was subject to a public dissection by Sir John Struthers and taken on a tour of the UK.
Its skeleton is now in The McManus Galleries in Dundee.
'Unmarked grass'
Paola McClure, chair of WestFest, said: "When we noticed the pitches being re-seeded last year we contacted Dundee City Council to find out if we could use the expanse of unmarked grass.
"Once we had explained the idea to them their staff have been exceptionally helpful in making this happen.
"We have also had the help of access students from Dundee College working with their surveying lecturers pegging out the drawing, which was then marked on to the grass using the white line marker they use for the pitches."