Inch Cape wind farm future 'secured' by £1m investment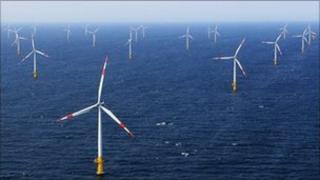 An offshore wind farm off the Angus coast has been awarded £1m of investment from the Crown Estate.
The future of the Inch Cape site had been in doubt after the consortium initially awarded the lease was broken up.
But the Crown Estate said a new agreement with Aberdeen-based SeaEnergy Renewables Inch Cape Limited (Sericl) "secured the future" of the project.
The proposed wind farm will generate about 905MW of power.
It will be built a few miles offshore in the Firth of Tay, east of Arbroath, and is expected to have enough capacity to supply electricity to about 680,000 homes.
The lease with Sericl grants the company exclusive rights to develop wind farms at the site, subject to obtaining the necessary consents.
Gareth Baird, Scottish commissioner of the Crown Estate, said: "This investment demonstrates the critical role played by the Crown Estate in helping drive the Scottish offshore wind industry, in line with one of the Scottish government's key objectives."
'Confidence vote'
Sericl is a wholly-owned subsidiary of SeaEnergy Renewables Limited, which has been acquired by Spanish energy firm Repsol Nuevas Energias SA, subject to shareholder approval.
Following the conclusion of this transaction, it is intended that the Inch Cape site will be developed as a joint venture between Repsol and EDP Renewables.
The Inch Cape lease was originally awarded in 2009, but the consortium was broken up in 2010 after Npower decided to leave the project.
First Minister Alex Salmond said this latest investment was a "massive vote of confidence" in Scotland's offshore wind sector.
"With around a quarter of Europe's offshore wind energy potential, Scotland is uniquely positioned to develop this exciting industry and major companies like Doosan, Gamesa and Mitsubishi have already announced plans to develop their offshore wind interests here," he said.