Four rescued from shop and flat fire in Crieff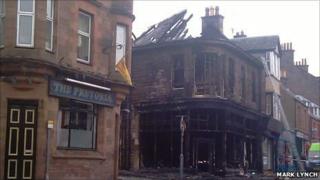 Four people have been rescued by firefighters tackling a large blaze in a shop and flat in Crieff in Perthshire.
The fire broke out in CeeGees clothing store in High Street at about 0300 BST.
A man and woman had to be rescued from the flat above the shop and two other men were taken to safety from an adjacent flat.
The main road through the town was closed by Tayside Police for several hours.
Firefighters remained at the scene and were involved in a clear-up operation. A joint investigation into the cause of the blaze has been launched.
Do you have pictures - still or moving - of this incident? Send them to the BBC Scotland news website at newsonlinescotland@bbc.co.uk
Please ensure when filming or photographing an incident that you make your safety and the safety of others a priority.
If you submit an image, you do so in accordance with the BBC's Terms and Conditions.