Raploch estate in Stirling gets £1m Big Lottery funding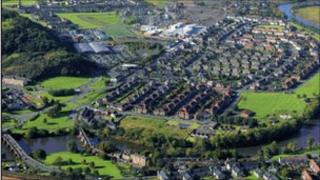 A pioneering project working to improve the lives of people living on the Raploch estate in Stirling has been awarded almost £1m in lottery funding.
The Altered Lives and Big Adaptations (Alba) project supports vulnerable young adults trying to turn their lives around.
It is among six community-led groups across Scotland sharing in more than £3m from the Big Lottery Fund.
Residents on the Raploch estate have been working to improve its image.
In the past it suffered from high levels of crime, drug abuse and unemployment.
The Raploch Urban Regeneration Company was set up in 2004.
The Alba project, which brings together different agencies to offer young people support and expertise to build themselves a safe future, was awarded a grant totalling £973,632.
Bob Laverty, chief executive of Raploch URC Landholdings Ltd, which runs the project, said: "We are absolutely delighted at the Big Lottery Fund's decision to support the Alba Project.
"This will enable us, along with our partners, to provide a fully comprehensive person-centred programme to those who need it most.
"We wish to see those people who come to us with little hope for the future transform their lives whereby they have high expectations, greater self-belief and skills to move forward into employment or education and enjoy healthy meaningful lives."
Safer future
Sean Thomson, 26, who took part in a pilot of the Alba project and will now work as a mentor on the scheme, said: "When I came here I hadn't been able to hold down a job for any length of time.
"I was homeless, dossing down on mates' floors and I had a problem with alcohol.
"Now I've much more stability in my life, qualifications to my name and a steady job of my own."
Three Glasgow-based community projects were among the others to secure Big Lottery Funding.
Rosemont Lifelong Learning was awarded £495,450 for its work with young parents and their families
The Big Issue Foundation's With Kids project was granted £694,230 to develop and extend services to vulnerable families in the east end of the city.
The Coach House Trust in Glasgow was awarded £483,310 to continue helping those with chaotic lifestyles.
The final two groups to receive grants were Voluntary Action Orkney's Connect project, which was awarded £182,267, and Voluntary Action Shetland's Befriending for 60+, which was awarded £264,960.
Big Lottery Fund Scotland chairwoman Alison Magee said: "In these difficult times we want to ensure that Big Lottery Fund investment makes a clear difference to people's lives both now and also that this difference lasts so they can enjoy a safer future.
"Across Scotland our funding supports vulnerable people to deal with their often challenging personal circumstances."