Woman killed in A9 bus crash named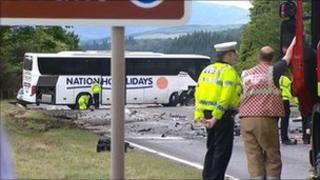 A woman who died after a head-on crash between a car and a tour bus on the A9 on Friday has been named by police.
Julia Jarvis, 52, from the Crieff area, died at the scene of the accident on the road between Dunkeld and Pitlochry.
Tayside Police said the road had to be closed in both directions for several hours.
The 61-year-old bus driver is understood to have broken his wrists, while eight of the 39 passengers received cuts and bruises.
Accident investigations are ongoing and police appealed for any witnesses to contact them.
Officers said Ms Jarvis was driving south when her car was involved in the collision with a northbound single-decker bus at Dowally, shortly before 1500 BST.
No-one else was in the car at time.
The driver of the bus was taken to Ninewells Hospital in Dundee. Police said the passengers, believed to be tourists from England, were treated at the scene.
A replacement coach took them to their final destination.
The A9 was reopened at about 2330 BST. The closure caused delays for people heading to the Rock Ness festival at Dores near Inverness.