Ninewells Hospital hygiene 'below standard'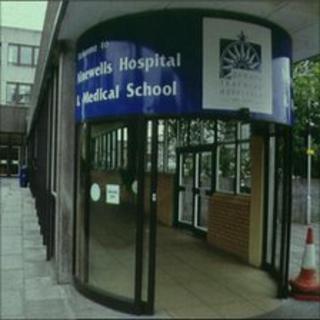 Ninewells hospital in Dundee has been criticised for failing to improve hygiene standards six months after an inspection raised concerns.
A spot-check by inspectors found "inconsistent availability" of protective aprons and gloves and poor patient communication in some areas.
Fridge temperatures were also not being monitored, the report said.
Inspectors made the unannounced visit on 25 and 26 April, following up on an inspection in November 2010.
They found evidence that NHS Tayside was "working towards" complying with some of the standards to protect patients, staff and visitors from the risks of acquiring infection.
But the report said that further improvements were needed in certain areas. Eleven requirements and three recommendations were made by the Healthcare Environment Inspectorate (HEI).
Susan Brimelow, HEI chief inspector, said: "There were examples of improvement found since the last inspection, with many staff aware of their responsibilities for good infection control.
"However, a number of issues that we identified in our previous inspection of Ninewells Hospital in November 2010, have still to be addressed."
Ms Brimelow said there was a lack of information about healthcare and infection available to patients at the hospital.
'Redouble efforts'
She added: "We expect that all requirements and recommendations will be addressed by NHS Tayside, and the necessary improvements made, as a matter of priority."
NHS Tayside said the report needed to be considered "against the backdrop" of the hospital's success in reducing infection rates.
A health board spokesman said: "It is fair to say we are disappointed by some of the findings of today's HEI report, although we very much welcome the observation by inspectors that they found that the ward environment and clinical areas inspected were clean.
"Tayside NHS Board, the executive team and staff in Ninewells take the matter of not meeting the HEI standards very seriously and we know we will have to redouble our efforts to achieve these."