Ballumbie Court care home worker to stand trial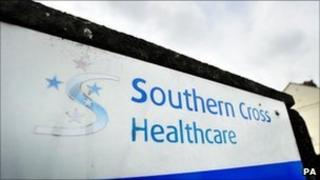 A care home worker is to stand trial over allegations he assaulted two elderly residents at a Southern Cross home in Dundee.
Robert Myloff allegedly hit 89-year-old Mary Percy over the head with a tray at the Ballumbie Court Care Home.
He is also accused of repeatedly pushing Nora MacDonald, 84, in September 2010, causing her to fall to the ground.
Mr Myloff, 42, denies the charges. He will stand trial in September.
Prosecutors at Dundee Sheriff Court said the alleged attack on Nora MacDonald - between 17 August and 17 September 2010 - was "aggravated by prejudice relating to disability".
Mr Myloff, from Dundee, also denies shouting and swearing aggressively at at Joe McLeod, 69, and Rita Dowie, 89, both residents at the home, placing employees Donna Foley and Wilma Hall in a state of fear and alarm.
Financial crisis
Again, it is alleged that these offences were aggravated by prejudice.
Mr Myloff was set to go on trial later this month over the allegations - but his defence lawyer asked the case be postponed.
Kevin Hampton, defending, said: "There are certain issues with disclosure from the Crown, as well as matters I won't go into in open court."
Southern Cross, which runs the Ballumbie Court Care Home, has been at the centre of controversy in recent weeks after it emerged they could make up to 3,000 staff redundant as they battle a financial crisis.
The company - Britain's largest care home group, with more than 31,000 residents - is to shut 30 of its 752 homes and is attempting to offload dozens more as it tries to stave off bankruptcy.