Charges dropped over Neil Lennon Postman Pat photo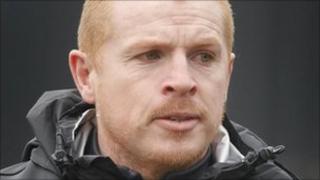 A student who posed for a photograph dressed as Postman Pat while holding a package addressed to Celtic manager Neil Lennon will not face a trial.
Lee Dunlop, 22, was arrested after police received a complaint about the image, which was posted on Facebook.
It was published a week after two men were charged with sending explosives and hoax bombs to Mr Lennon.
The sectarian breach of the peace charge against the Stirling University student has now been dropped.
The Crown Office said Mr Dunlop's actions were in "bad taste", but concluded there was "insufficient evidence" of a criminal offence.
Mr Dunlop, from Annan, was arrested on 19 May in connection with the incident on 7 May.
A Crown Office spokesman said: "After full and careful consideration of all the facts and circumstances, Crown counsel have now concluded that while the actions of the accused were in bad taste, there was insufficient evidence of a criminal offence having been committed, therefore there should be no criminal proceedings.
"The case is now closed."