Safety concern over 'high risk' prescriptions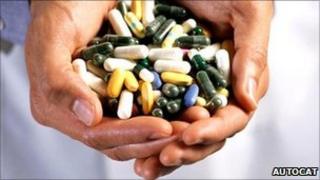 Thousands of people in Scotland are being prescribed drugs by their GP which could potentially do them harm, according to new research.
The report, from Dundee University, analysed the records of almost 140,000 patients who were at risk of suffering bad reactions to drugs.
They found about one in seven, more than 19,000 people, had been prescribed drugs which could harm them.
The study highlighted "big differences" in how cases were treated by GPs.
High-risk drugs defined by the study included antipsychotic medication for dementia patients.
Prescribing anti-inflammatory drugs such as Ibuprofen to people with a history of stomach ulcers or kidney problems could also cause serious or fatal side effects, the study said.
'Vulnerable' patients
Professor Bruce Guthrie, who led the research, said "preventable" adverse reactions to prescribed drugs were a frequent cause of hospital admission and death.
The study looked at data from 315 Scottish GPs with 1.76m registered patients - about a third of all patients across Scotland.
The team found that 139,404 were defined as being at risk of receiving selected high-risk drugs, due to factors such as their age and pre-existing conditions.
Of those at-risk patients, 19,308 had been prescribed at least one high-risk drug in the previous year, researchers said.
"If you take this across the whole of Scotland, approximately 60,000 people particularly vulnerable to side effects might be being prescribed high-risk drugs," the professor said.
"We're not saying that all this type of prescribing should not be happening, but that we have to be satisfied that it's appropriate and ensure that doing so doesn't put the patient at more risk."
"We can't make sweeping statements about people routinely being put at risk because of inappropriate prescribing," he added.
"We would need to know more about the individual circumstances of the patient, but the fact high-risk prescribing varies between practices suggests that there is scope to make prescribing safer."