Honeybee disease American Foulbrood found in Perthshire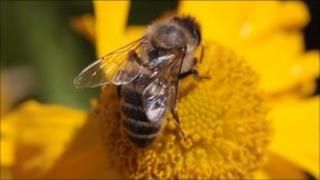 A highly-contagious disease affecting honeybees has been found at a Perthshire apiary.
Officials said the hive infected with American Foulbrood, located near Ballinluig, had been destroyed.
The movement of bees and equipment in or out of the apiary affected by the outbreak has also been prohibited.
There is no risk to public health and the quality or safety of honey was not affected, Scottish government bee inspectors said.
The inspectors will be examining other apiaries in the area over the coming days.
The hive hit by the outbreak was destroyed because there was no permitted treatment for the disease in the UK, the Scottish government said.
American Foulbrood is a notifiable disease and was confirmed following lab tests by Science and Advice for Scottish Agriculture.
Beekeepers in Scotland are being urged to check their hives and notify the Scottish government if they suspect the disease has also affected them.