Perth civic square plans on display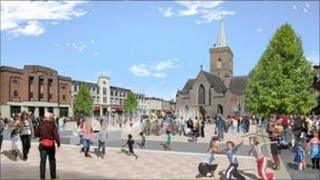 Plans for the creation of a new civic square in the centre of Perth are to be unveiled at an exhibition.
Perth and Kinross Council said it had submitted an application to demolish the current City Hall and build the square in its place.
The design uses St John's Kirk, one of Perth's most historically important buildings, as a focal point.
The proposals will be displayed in St John's Shopping Centre in Perth from 27 June to 3 July.
Councillors took the decision to demolish the City Hall in June 2010 following a public consultation.
Other options considered included doing nothing until the economic climate improves and re-using the building for another purpose.
'Long road'
But the council said the creation of a civic square had been supported by a "significant proportion of the public and local businesses".
The authority believes it will help attract more visitors and shoppers to Perth and boost the local economy.
It will also restore the space that originally existed around St John's, a spokesman said.
Council leader Ian Miller said: "This has been a very long road for the council and the Perth and Kinross public, and I am delighted that we are moving ever closer to the creation of a civic square that can be enjoyed by everyone.
"These proposals will significantly enhance the environment, culture and economy of Perth. We listened to local residents and businesses, and reacted to what they told us."
The Perthshire Chamber of Commerce welcomed the plans, saying it would provide a "true focal centre" for Perth.
Information on the proposals will also be available on the council website from 27 June.
If the proposals are recommended for approval by the council they would then be submitted to the Scottish government for a final decision, given the council's interest in the planning application.