Dundee University resolves job cuts dispute with staff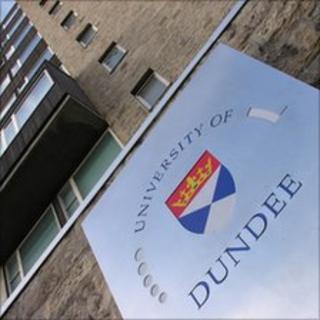 Staff and management at Dundee University have said they have resolved their dispute over job cuts announced last year.
Union members feared that almost 200 people faced compulsory redundancy, resulting in a one-day strike in March.
The cuts were outlined in October as part of a package of measures aimed at saving millions of pounds a year.
In a joint statement, the university and union said agreement had been reached on key policies.
The dispute focused on the use of fixed term contracts and the avoidance of redundancy, but has now been resolved after "extensive negotiation", the statement said.
So far, the university has delivered savings of £8.7m against a target of £10m.
Dr Jim McGeorge, secretary of the university, said: "We are pleased that no compulsory redundancies have been required to date and remain confident that, with continued effort, the remaining £1.3m of savings should be able to be achieved on the same basis."
Members of Dundee University and College Union staged the 24-hour action on 8 March after voting for the strike in January.
Lecturers were joined on the picket line by students at the university.
Janice Aitken, DCU president, said: "We are particularly satisfied that the negotiations have resulted in the agreement of a solid redundancy avoidance policy and we trust that the University of Dundee will do everything possible to achieve the savings they want without resorting to compulsory redundancies."