'Superned' Edmond Eccles jailed for robbery bid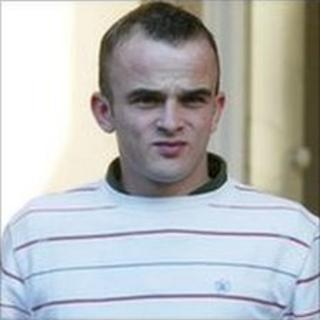 The former gang leader who inspired Scotland's anti-social behaviour laws has been jailed for attempted robbery while carrying a knife.
Edmond Eccles, 23, approached Ian Flight on a street in Dundee and demanded that he hand over his wallet.
Mr Flight ran off after seeing a knife in Eccles' hand.
Eccles was banned from much of central Scotland for his behaviour when he was 16 years old, earning him the nickname "superned".
And in 2009 he admitted stabbing a 13-year-old boy in the arm with a pitchfork.
Dundee Sheriff Court heard that Eccles was seen near blocks of flats in the city on 23 February, covering his face with his hood each time he exited the buildings.
At about 1615 GMT he approached 40-year-old Mr Flight in Strathmore Avenue and asked him "How are you doing?"
Mr Flight replied "fine" - before Eccles - who has more than 25 previous convictions - demanded his wallet.
Kicked car
Mr Flight then turned and saw a knife in Eccles' hand and ran off fearing for his safety.
Later, Eccles was seen in the city's Lorimer Street while talking on a mobile phone.
As Susan Gillespie, 40, and daughter Karen Gillespie, 19, got out of a car Eccles pointed towards them and went across.
Fiscal depute Donna Davidson told Dundee Sheriff Court the pair then got back into the car - which Eccles kicked as they tried to drive off.
Eccles, a prisoner at HMP Perth, pled guilty on indictment of assault with intent to rob. He also admitted breaching the peace by acting in a disorderly manner.
The offences were both committed while he was on bail.
Defence lawyer Brian Allison said Eccles "recognises he faces a lengthy jail term".
He added: "He says he does feel empathy for the victims of the matters before the court.
"He travelled to the area only a short time before the offences and was trying to get away from his previous offending behaviour."
'Horrendous record'
Sheriff Richard Davidson jailed Eccles for 47 months and imposed a year-long post release supervision order.
He said: "It is never going to be acceptable to the court for you to threaten people in the street who are complete strangers to you.
"You made it obvious that you were in possession of a knife and you demanded the man's wallet - he had the astuteness to run away.
"And then you subjected the two ladies to an incident that would have been extremely frightening and unsettling."
Sheriff Davidson said the offences were committed "against the background of a horrendous record".
Eccles appeared at Alloa Sheriff Court in 2004 to be sentenced for 17 offences of assault, theft, housebreaking and vandalism in Alva - a town he claimed to run.
He was banned for nine months from an area of central Scotland stretching from Arbroath in the north to Grangemouth in the south and Crianlarich in the west.
Eventually, former First Minister Jack McConnell visited Alva to see what could be done.
His spokesman said in 2003 that Eccles' behaviour was "exactly the kind" targeted by the Anti-Social Behaviour Bill.