Stirling police order school trip buses off road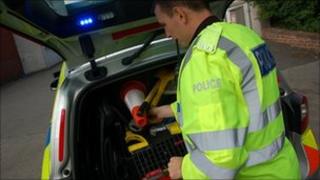 Police carrying out safety checks on school buses ordered three off the road immediately after finding "severe" defects.
Two drivers were also banned for nine hours because they were unable to prove how long they had been driving since their last break.
The checks were carried out at Blair Drummond Safari Park near Stirling and on school run buses in the city.
Officers found faulty brakes and defective seatbelts on some vehicles.
Out of the 45 buses examined at the safari park, a quarter were found to have problems, putting hundreds of school children at risk.
The two buses banned from the road both had emergency exits that could not be opened.
Central Scotland Police officers spent a week at the park checking the vehicles with members of the Vehicle and Operators Services Agency.
Replacement drivers
The force said it had also targeted school buses making the morning run in the Stirling area. One coach was immediately taken off the road because of steering problems and another stuck emergency exit.
Two more buses travelling to Stirling schools were given time to have their defects repaired.
Les Wallace, from Central Scotland Police, said the safety of hundreds of school children from across Scotland had been the focus of the checks.
He said that where drivers or buses had been banned from the road, the firms involved had been forced to send replacements by the end of the day to pick up the children.
"The majority of the buses are from operators outside of our force area. These buses are travelling greater distances and that is a bigger factor where safety is concerned," he said.
"However, we are happy in the knowledge that when these buses left Blair Drummond Safari Park the coaches, drivers and crucially the youngsters themselves, were safe and fit to use the roads."