Falkirk Helix project footpaths opened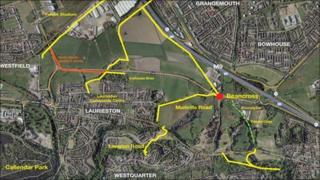 Several miles of new and upgraded paths across a 300-hectare site near Falkirk have been unveiled.
The paths were built as part of the £43m Helix project to "transform" the land into an international visitor attraction.
Other work being carried out includes public artwork and a waterway linking Grangemouth to the Scottish canal network.
Phase one of the project is scheduled to be completed in 2013.
The 12km (7.5 miles) of new paths are in the area known as Helix South.
Falkirk Council said the paths would create "strong community links" with the Beancross area and improve connections between Grangemouth and local villages.
Helix director Mike King added: "One of the aims of the Helix is to encourage people to adopt healthier, outdoor lifestyles.
"Our network of paths have been designed to accommodate everyone from keen walkers and cyclists to ambulant users and mothers with buggies.
"We're planning to hold further organised activities on the paths over the coming months to encourage people to keep using them."