Police murder attempt case against 98-year-old dropped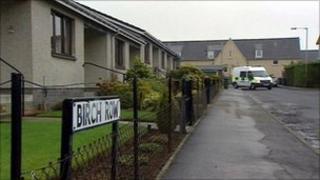 A 98-year-old man accused of trying to murder two police officers has had the charges against him dropped.
The case against WWII veteran Sylvester Nowak was deserted after a court was told he suffered from vascular dementia and was "insane" at the time.
Mr Nowak had initially been charged with attempting to murder two female officers with a knife and an axe at his home in March.
However, the charges were reduced to assault when the case was called.
Mr Nowak, who did not appear in person, was said to have severe dementia and will now be moved to a 24-hour care regime in a nursing home.
Fiscal depute Alan Kempton said: "The Crown has asked that the accused does not attend at court, standing his medical condition. There have been extensive legal and medical investigations in this case.
"The agreed medical opinion is that the accused was insane at the date of the offence and is unfit to stand trial. Crown counsel's instruction is to move to desert pro loco et tempore."
This means that fresh charges could be brought in the future.
'Fiercely independent'
Advocate Frances Connor, for Mr Nowak, said: "It is simply dementia he has and there are no security issues.
"He is not violent and is not posing a difficulty to anyone. He requires 24-hour nursing care in a nursing home. He seems to have outlived all of his family in this country. He has no previous convictions.
"This was a fiercely independent gentleman who was determined to cling for as long as possible to his independence. There is no suggestion he could ever live independently again."
The court was told that Nowak could easily have been taken into care for his own health sometime before the incident in March but had "slipped through the net".
Mr Nowak was previously placed on a psychiatric assessment order to Murray Royal Hospital in Perth, but that has now been revoked as he no longer needs to be kept in secure conditions.
Nazi escape
Sheriff Lindsay Foulis said he noted the medical advice and would agree to the Crown's motion to desert the case and have the assessment order revoked.
Having initially faced two murder attempt charges, Mr Nowak had the charges reduced to assaulting Pc Katie Deas on 29 March by repeatedly trying to strike her on the head and body with a knife and axe.
He was also alleged to have assaulted Pc Shona Beattie to her severe injury, permanent disfigurement and permanent impairment by repeatedly stabbing her body with a knife in Birch Row, Scone, on the same date.
The Polish-born former soldier, who escaped from the Nazis after being captured during the war, is virtually deaf and only has the use of one eye.
Known locally as Eddie, he formerly worked as a welder for a coachworks firm in Perthshire and had lived alone for several years.
He is believed to have been the oldest person to be held in Scottish police custody.