Alcohol ban for T in the Park trains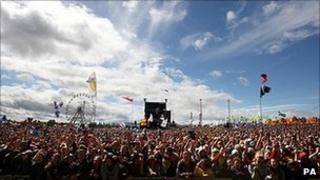 Festival-goers travelling by rail from the north of Scotland to T in the Park are to be banned from drinking alcohol on the train.
British Transport Police (BTP) said alcohol would be prohibited on a number of services to Perth before the event.
Officers will also be patrolling the trains as part of a clampdown on anti-social behaviour.
This year's festival, at Balado in Perth and Kinross, runs from 7-10 July.
The headliners at the event, which is expected to attract 85,000 people, are Arctic Monkeys, Foo Fighters and Coldplay.
Sgt Stephen Todd, from BTP, said: "If you are using the train to travel to Perth please be aware that not all your fellow passengers are going to T in the Park.
"We want to ensure that everyone can travel without encountering anti-social behaviour and officers will be patrolling the affected trains.
"Alcohol will be confiscated and anyone indulging in behaviour that is deemed unacceptable will be dealt with appropriately."
Sgt Todd said the force did not wish to "dampen spirits" but wanted to ensure others travelling could do so "safely and without hindrance".
Police have also warned drivers heading to the festival to heed signals at level crossings.
Sgt Todd added: "There are 13 railway level crossings within a 20-mile radius of the festival site. Don't risk your own life and the lives of others to save a few minutes."