Police to deal with out-of-hours council calls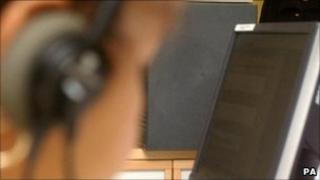 A police call centre is to begin taking out-of-hours calls made by the public to a local authority.
Operators at Central Scotland Police's telephone response service will begin fielding calls for Clackmannanshire Council later this year.
The council said it would "improve response times" and save up to £80,000 a year.
Force managers are also in talks with Falkirk and Stirling councils about providing the same service.
Clackmannanshire Council approved the plan to share the out-of-hours response service at a meeting on Thursday.
It will mean that Central Scotland Police will be taking calls for the council in the evening, overnight and at weekends, and then routing them to the correct service.
Robert McGill, the depute leader of the council, said the authority only received one call per hour during the night and only four to seven calls an hour at the weekend.
'Seamless response'
"It costs a lot per call to employ someone to answer the phone. By sharing the police's service, we can save money," he said.
"More importantly, customers will only have to make one call where they might previously have made two - for example, vandalism can be reported for the council to repair and at the same time reported as a crime."
Mr McGill said callers would be able to call the same number and would get a "seamless response".
Ch Supt Davie Flynn, from Central Scotland Police, said the new arrangement would not impact on the way the force currently dealt with calls made to the police.
"We and our partners are continuously looking at opportunities to collaborate and enhance the service we provide to communities across the Forth Valley in the most efficient way.
"As part of this work, a dedicated project has commenced between the police and the three local authorities to explore potential opportunities," he said.
"We hope to have this in place later this year and once embedded, we will explore with all three local authorities how this can be further developed."