Abertay principal Bernard King retires from university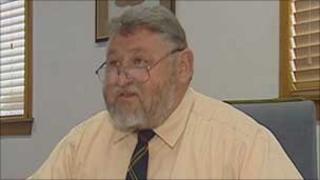 The principal of Abertay University, Professor Bernard King, has retired from the university with immediate effect.
Following his suspension earlier this year, he had alleged he was facing discrimination on grounds of age.
Prof King, 64, had lodged papers with an employment tribunal.
His departure was to be announced to university staff at an official briefing but an e-mail on the move was circulated, apparently in error.
Prof King's deputy, Professor Nicholas Terry, then wrote to all staff at Abertay.
He said: "While the e-mail is accurate, it is regrettable that it was sent out without the knowledge of either the chair (of the university court) or myself.
"It was most certainly not our intention for such a significant piece of news to be released to staff piecemeal."
The dispute between Abertay University and its principal proved to be highly contentious.
A number of public figures in Tayside have resigned from the university court.
One of them, businessman Derek Douglas, called for an independent inquiry into the suspension of Prof King.
The employment tribunal action may still go ahead.
An Abertay spokesman said: "Prof Bernard King has retired from his post as principal and vice-chancellor of the University of Abertay, Dundee.
"There are a number of outstanding issues relating to Prof King's employment that remain to be resolved."