Stirling vandals strike historic building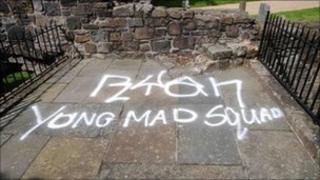 Police are hunting vandals who painted their names over a historic tourist attraction in Stirling.
A number of tags were discovered on the 16th Century building at Mars Walk, including "Alex L", "Ryan", "Sandy" and "Young Mad Squad".
The initials "YMS" and "YRS" were also found scrawled on the walls in white paint.
Central Scotland Police said the vandalism occurred between 1015 on Wednesday and 0945 BST on Friday.
Community officer for the area, Robert Russell, said: "This is mindless vandalism to an historic building. We are in the middle of the tourist season and this is not an acceptable sight for visitors to our city to see.
"It gives the wrong impression. We appeal for anyone with information to come forward."
The building in Stirling's old town was started in the 1570s and lived in by the Earl of Mar until the end of the 17th Century.