T in the Park film returns to festival for premiere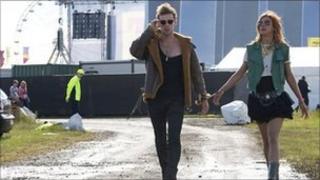 A romantic comedy filmed at the 2010 T in the Park is to be given a "people's premiere" at the festival campsite on Thursday evening.
You Instead, which was filmed over just five days at last year's festival, is due to be released in September.
The rock 'n' roll comedy is set against an "unforgettable lost weekend" at a music festival.
It stars 26-year-old actor Luke Treadway, and features music from Foo Fighters, Arctic Monkeys and Coldplay.
More than 80,000 people are expected at this year's T in the Park festival in Balado, Perth and Kinross, which runs from 7-10 July.
The independent film will be given a one-off screening at 2100 BST on Thursday at the campsite cinema.
Treadway plays the part of "strutting indie star" Adam, one half of the duo The Make, who finds himself accidentally handcuffed to Morello - the lead singer of an all-girl punk band played by Natalia Tena.
'Natural' premiere
When the key cannot be found, the feuding pair have to get through the weekend as best they can.
All the cast, crew and extras of You Instead stayed onsite at Balado for the entire duration of filming last July, camping in a backstage enclosure.
Director David Mackenzie said: "After shooting the film entirely at last year's T in the Park, it was only natural that we brought it back to where it was born, one year on.
"The fans - as well as the festival - are what made the project, so I'm delighted they will get to see the finished film before anyone else."
Geoff Ellis, festival director of T in the Park, said: "The film really captures the spirit of what T in the Park is about, and we can't wait to get our 18th year under way with this exciting preview screening."