Drink driving youth banned on day he passes test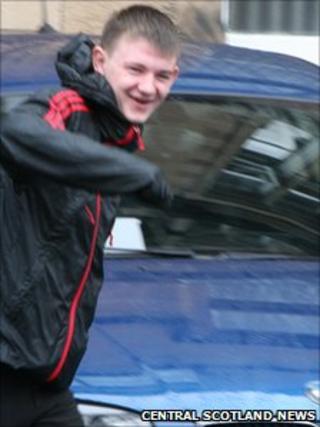 A teenager was caught driving while nearly three times the legal alcohol limit the day he passed his driving test, a court has heard.
At Stirling Sheriff Court Gary McKinstry, 17, was banned for 18 months after he admitted drink-driving and driving without insurance.
Police stopped McKinstry at 0045 BST on 10 June at the wheel of his mother's new Vauxhall Corsa in Bannockburn.
It was less than 12 hours since he had passed his test.
Sonia Kalkat, prosecuting, said: "The police observed a car coming towards them that appeared to be constantly swerving towards the middle of the road.
"It then almost collided with a parked car. They indicated for it to stop, and it did so."
She said McKinstry was driving, and there were two other young males in the car, one in the front passenger seat and the other in the back.
"Police smelled alcohol from the accused's breath, and he was arrested," she said.
'High reading'
The court heard the other two males "left the scene".
Miss Kalkat said McKinstry was taken to Stirling police station, where he gave a breath sample which contained 98 microgrammes of alcohol per 100 millilitres - 2.8 times the legal limit, which is 35.
Defence solicitor Ken Dalling said McKinstry, from Plean, had been out drinking with friends on the night of the incident.
They had returned from Stirling to Plean, five miles from the city, by public transport.
Mr Dalling said McKinstry was then "persuaded" to drive his friends back into Stirling.
He said McKinstry now recognised that he should not have done so.
Mr Dalling said: "He was knocking on for three times the limit. His mother's car was insured - but just not for him."
McKinstry was given the driving ban and was also fined £450.
Sheriff William Gilchrist told him: "This was a high reading."