Fifth member of Abertay University court resigns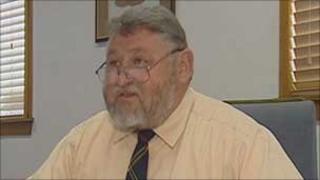 A further member of the governing body of Abertay University has stood down.
Bob Doak, a director at WL Gore, resigned from the university court on Thursday morning, the university has confirmed.
The institute has been in turmoil since the suspension of its principal Prof Bernard King earlier this year.
Four other members of the university court have resigned in recent months, including Tayside Police Chief Constable Justine Curran.
The court, which is responsible for the university's finances and administration, is made up of 25 staff and lay members.
Lay members are recruited to the court from industry and commerce, while others are included for their experience in the community.
Allegations denied
Mr Doak has not given a reason for standing down from the body.
On Wednesday, a leading academic at the university called on the chairman of the court to resign over the row with its principal.
In an e-mail seen by the BBC, Professor Phillipe Baveye accused the university court of being "amateurish, inept, incompetent and irresponsible".
The allegations were strongly denied by Abertay University.
A spokesman for the university said: "We received Mr Doak's formal resignation from court this morning.
"We are very sorry to see him leave and we thank him for the valuable contributions he has made to the deliberations of court during his tenure."