River Devon fish 'unsafe' to eat after spill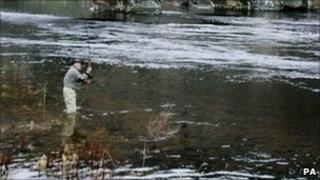 Public health experts have warned anglers not to eat fish caught in a central Scotland river until further notice.
The advice follows a recent pollution incident in the River Devon, which runs through Perthshire and Clackamannanshire.
NHS Forth Valley said it was a "precautionary measure".
The health board said drinking water had not been affected and added there was no wider risk to public heath.
Officials from the Scottish Environment Protection Agency and Scottish Water have been regularly taking samples from the river throughout the week.
Advice, issued previously, warning people not to swim in the water because of the incident has now been withdrawn.