'Cuddly snake' lost at T in the Park festival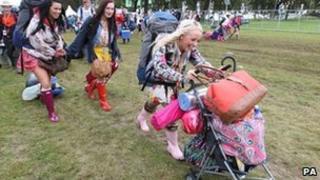 More than 600 items of lost property were handed in at this year's T in the Park festival, including a "big furry cuddly snake", police have said.
Other items lost during the three-day festival at Balado, near Kinross, include mobile phones, wallets, purses and clothing.
Rucksacks, bags and even a steak slice were also handed into the lost and found property office on site.
The 2011 T in the Park has been hailed as the "best ever" by organisers.
Tayside Police confirmed on Monday that arrests were down by 20% on last year's festival, which was marred by several arrests for serious offences, including attempted murder.
The event was closed by American rockers Foo Fighters on Sunday evening.
A police spokesman said: "There have been about 600-plus items gathered up at this year's event and of those about 200 items have already been reclaimed by their owners.
"While there are still items coming on to us to deal with, the overall figure is significantly down on last year, when well over 800 items were handled by the lost and found property office."
The spokesman added that for health and safety reasons, officers would not be attempting to reunite the steak slice with its owner.